Uniforms are an important part of military operations, customs and traditions. The museum has an extensive collection of historic Regimental uniforms used for the following purposes: dress uniforms used for ceremonial parades and other formal occasions; formal evening attire used for mess dinners; service dress (walking out or duty uniform) which is the equivalent of a business suit; base or work dress used for day-to-day duties; and operational or combat dress.
The museum's collection includes decorations and medals awarded to soldiers for bravery on the battlefield or for distinguished service. The British Empire's highest award for bravery was the Victoria Cross which was awarded to four members of the 16th Battalion during the First World War. Other decorations and medals awarded during the two world wars included the Distinguished Service Order, the Military Cross, the Distinguished Conduct Medal, and the Military Medal. The first two were reserved for officers, with some Warrant Officers receiving the Military Cross, and the latter two were reserved solely for non-commissioned officers and other ranks. For all these medals, a second award was recognized by the addition of a bar, worn on the ribbon.
There is also an extensive collection of medal sets that belonged to members of the Regiment. This collection is accompanied by a Book of Memory recognizing the service of departed members.
The museums collection of artifacts will provide a visitor with hours of informative viewing. Artifacts include items like the replica of the 16th Battalion (Canadian Scottish) crest that was carved into the chalk walls of the caves near the battlefield. The soldiers spent several days in the caves to conceal the build-up from enemy observation.
The library and archives are an excellent source for researchers and military history buffs. For assistance in planning research, please contact the museum via the form on the Visit page.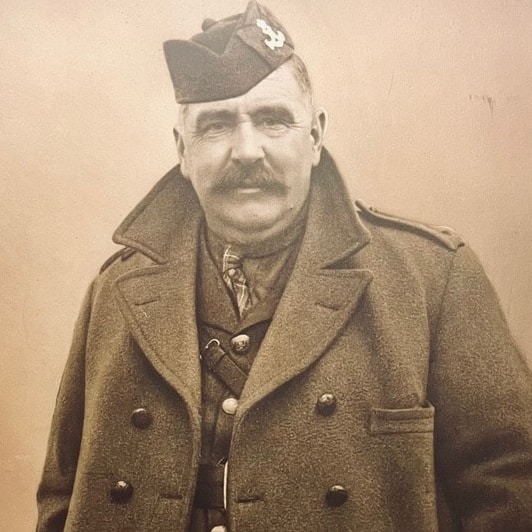 Lt. Col. Cyrus Wesley Peck
VC, DSO and Bar
Born in New Brunswick, Cyrus (Cy) Peck was working in Prince Rupert, BC when he joined the Canadian Expeditionary Force in November 1914. Peck became the Commanding Officer of the 16th Battalion during the Battle of the Somme where he was awarded the Distinguished Service Order. He was awarded the Victoria Cross for his efforts during the fighting for the Drocourt–Queant Line on the 2nd September 1918 "For most conspicuous bravery and skillful leading when in attack under intense fire."
Peck died in Sidney, BC on 27 October 1956 and is buried in the Fraser Cemetery in New Westminster.